RADAR | 22rd January 2020
LA SCELTA BIOLOGICA
Una realtà ampia, ma non ancora generalizzata tra i consumatori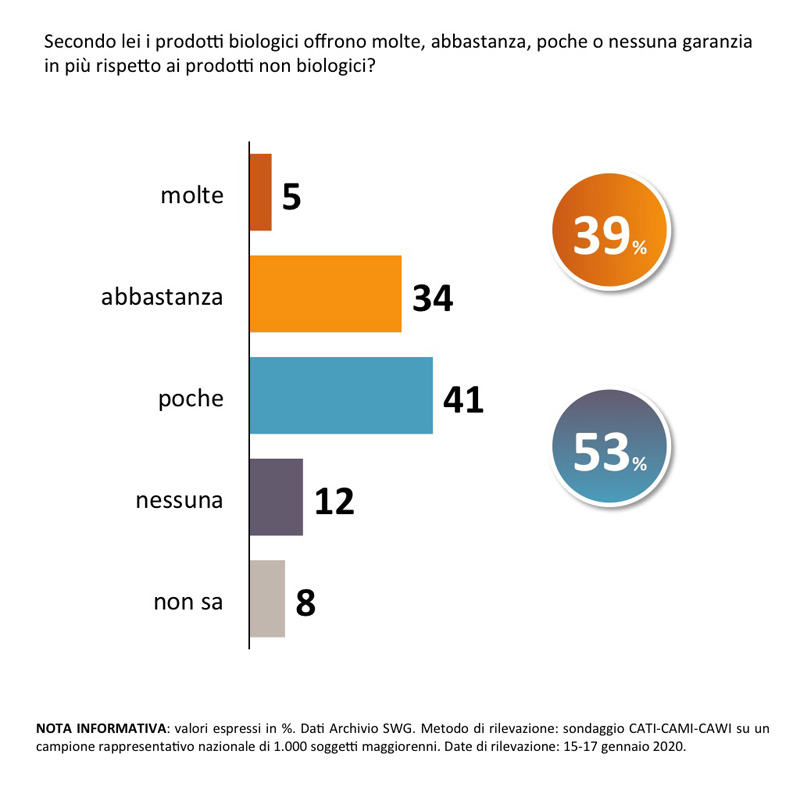 Radar
Much more than an observatory: it is a coordinated system of analysis about Italy and the Italians, a set of tools to intercept changes, drives, and fractures perceived by the Italian public opinion. A model to understanding the phenomena taking place in our country, and the reasons behind them and, at the same time, a predictive tool to grasp dynamics, trends and the future which is being built today.
From politics to values, culture to social networks, the economy to social transformations, tourism to consumptions, finance to insurances, telephone services to banks, cooperation to the third sector, from waste to the made-in-Italy: Radar offers a clear snapshot of our society, markets, consumers, and citizens-voters.
Radar is an innovative tool to enhance our clients 'awareness about who they are, where are they going, what they want and what people, consumers, citizens, voters, savers as well as investors, community members, happiness and wellbeing seekers, look for and dream of.
Observatory on Italian values and society
SWG has been managing the Italian public opinion observatory since 1997. Twenty years of analysis and studies, a unique database which covers the recent Italian history. The research describes the rooted identity and the values that have portrayed Italy over time from the social, cultural and political perspective; it also highlights generational differences, territorial diversity, socio-economic and family conditions.
A longitudinal study that, through the enucleation of trends, becomes the real story of our country, with its lights and shadows, certainties and vulnerabilities and permits to have a glimpse of the changes in fieri.
Political Observatory
The ongoing political dynamics, within the complicated Italian electorate twins and turns, are contextualized and framed in a broader sphere of social and economic trends; data are analysed according to historical series of socio-political indicators, among the largest and most complete existing in Italy.
This is the SWG political Observatory: a research tool, constantly updated, for an in-depth description of the Italian political-electoral trajectories and based both on data collected on a weekly basis and on the expertise of the researchers involved in analysis and consulting activities.
Perceptual Indexes
To accurately understand the deep evolution of public opinion in a changing and fragmented reality, where new combinations and perspectives are outlined, SWG has developed four socio-economic indices on a four-monthly basis: Economic solidity; Political and institutional disaffection; Social exclusion; Confidence in the future. These analytical tools have been conceived thanks to twenty years of experience in the study of public opinion and provide information about citizens' perception, adaptation and response towards events. Through the analysis of such indices, of different nature and cognitive capability, it is possible to understanding the mood of the Country and complete the overall picture which is indispensable to comprehend the present.
Consumer affinity model
The consumer has changed and continues to change constantly. Companies, brands and products need new lenses to understand who is the post-crisis consumer and what criteria does he follow to make choices, behave and consume. They need tools to analyse the communication and emotional stream where people are involved and to focus on storytelling, stories, icons, archetypes and narrative drivers indispensable to communicate and compose conversations and relationships with their target and potential audience. The consumer affinity model is a new SWG tool that puts people, their values, life expectancy, existential needs and fears, icons and myths, as well as consumer attitudes, instincts and tastes in the spotlight. The new model goes beyond lifestyles and identifies the syndromes that dominates the desire to purchase; the communities of sentiment (volatile and ephemeral swarms) where each individual-consumer is temporarily involved; affinities pursued by people and their relationships with brands and reference products; the description of people-audience along an axis of distance from and proximity to brand and product; storytelling archetypes and communication drivers required to converse and consolidate the relationship with the close affinity-audience and those necessary to create a dialogue with the most distant ones.
Waste Watcher
The household food waste is a phenomenon of great economic, social and environmental significance. The Waste Watcher Observatory, created by Last Minute Market, a spin-off of the Department of Science and Food Technology (DISTAL) of the University of Bologna, monitors family and consumer habits. The research is managed by SWG.
Waste Watcher monitor the evolution of behaviours and the awareness regarding the issues over the years. It provides tools to understand social and behaviour dynamics and lifestyles that generate household food waste. The Waste Watcher gradually creates a shared knowledge base to correctly implement policies and to prevent food waste by public and private stakeholders.
Social TV Observatory
THE NEW KEY ROLE OF TELEVISION
SCREENS, CONTENTS, AUDIENCE HABITS
The Social TV observatory is a project developed by Digilab, Interdepartmental Centre for Research and Services of Sapienza University, in collaboration with SWG.
What is happening to TV viewing consumption (and to the TV consumer) at this stage of extraordinary and rapid transformation? The feeling is that technological evolution, and its hybridization with web and social media, is about to give television consumption a new key role: it is gradually returning to be rewarding and challenging for the audience. We assist to an increase in the number of devices to access contents and in the many ways to enjoy time shifting and place shifting. The result is an overall increase in the time devoted to TV viewing consumption as well as a clearer definition of the audience needs. In the new TV ecosystem extremely diversified TV viewing experiences coexist and have the common objective to offer a pleasant consumption experience.
OBSERVATORY "VIVO LA CULTURA"
An innovative project involving La Sapienza University of Roma, its Interdepartmental Research and Service centre (Digilab), and SWG.
The new observatory does not intend to report and collect data regarding the cultural consumptions of Italians but rather identify:
the reasons inducing Italians to opt for different cultural consumptions
the varied tribes in which Italians are grouped
what "culture" means for the Italians and its different aspects
the role of the web in styles and cultural consumptions changes
the time and places devoted to culture
The maps of drivers inducing cultural consumptions (to transform the observatory not only into an analysis tools but also into a study for those willing to generate culture and make a business of it)